Thank you for your interest in our website; we hope you will find it informative and helpful. Our information is current and intended to give potential travelers effective tools to plan and book their travel arrangements in Russia. Please feel free to ask any questions. We will be happy to answer all of your questions regardless if you plan to visit Russian soon or in the near future or if you are simply taking a "virtual" vacation at this time.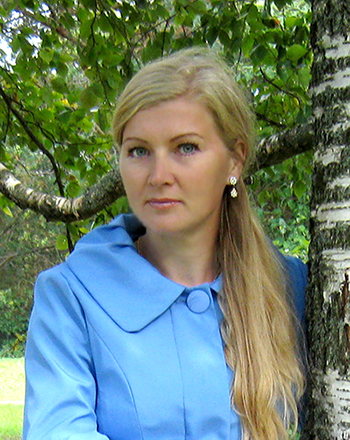 I am Ludmila Ilyina, co-founder and CEO for Ludmila Tours, fully authorized and licensed tour operator (Federal Registration MBT #008222).
Our travel company is located in St. Petersburg, Russia and specializes in VISA-FREE shore excursions and private tours of St. Petersburg, Russia. We are a team of trained, experienced professionals who know this field really well and love it very much. As for me, I worked in Saint Petersburg as a tour guide for more than 15 years and garnered extensive experience in tour arrangement for individuals, families and groups.
I have worked with most of St Petersburg's travel companies and finally felt ready to start and operate a new travel agency. I hired those people whom I have known for many years - enthusiastic and knowledgeable women and men who love the tourist industry - who are ready to work 24/7 with big smiles not just on their faces, but most importantly in their hearts. These are the loyal colleagues upon whom I complete rely. Read more about Ludmila
Our objective is to become a major, contributing force in making St. Petersburg one of the world's most desirable and talked-about travel destinations. Do you think we have chosen an impossible goal to reach? At first glance it seems difficult but in reality it is not. St. Petersburg stands among the world class cities and is already a well known, popular travel destination.
Every year we host about 3 million visitors from all over the world, but, as people say, there is no limit for perfection! Traveling is a passion for me; I have been to many different countries and cities and must say that St Petersburg is at the top of the list of the most beautiful cities in the world. Please let me strengthen your desire to visit our wonderful city and country so rich and interesting with history and culture.
Allow us convince you that this destination really deserves your visit. You will not be disappointed. Your Russian trip will be cherished and well remembered for many years. We will be happy to assist with every little detail of your trip from visa support to tailor-made sightseeing tours, personalized to satisfy your wishes and interests.
We are ready to give you many useful recommendations for planning your tour. Please contact us with your inquiries.
Sincerely yours,
Ludmila Ilyina