We are glad to welcome 2022 cruise passengers in St.Petersburg, Russia!
During your European cruise the visit to St Petersburg will certainly become the highlight of you entire trip. Your time is valuable. We recommend you use care to organize your shore tour of this unique city.
Ludmila Tours will happily arrange your VISA-FREE Shore Excursions in St. Petersburg, Russia taking care of the smallest details to make your Russian trip enjoyable and memorable. We will use our skills and extensive experience, knowledge and good connections, desire to work hard and ability to keep all our guests, from children to seniors excited, and of course our Love and Hospitality. Nothing would work well without those two important qualities. You may book one of our guided shore tours choosing among the most popular samples or we can offer you a rich variety of tailor-made private shore excursions, customized especially for you to fulfill your individual interests and wishes, touring the cultural and historical capital of Russia with one of our top tour guides.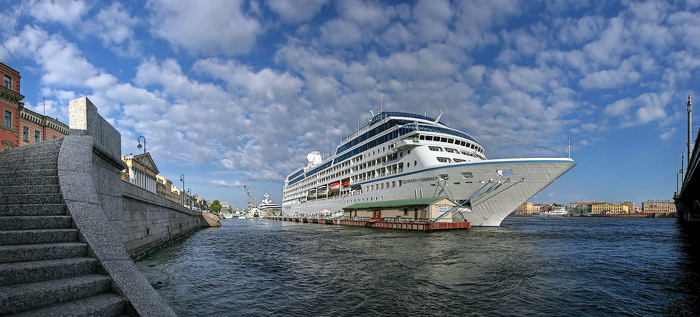 You may ask: "Why should I believe words, relying on a website while there are so many of them on the net, promising everything for nothing?" We do not say you should, but probably your countrymen's judgment regarding our service would be more useful? Please let us know and we will provide contact information of some of those travelers in your country, who have already explored St. Petersburg with our guidance. While we can't promise you everything, we can assure you an enjoyable VISA-FREE customized shore excursions in St. Petersburg and its suburbs with private, fully licensed, friendly guides and professional, safe drivers of comfortable, air conditioned vehicles.
We promise:
to pick you up and drop you off right next to your ship at passport immigration control;
to do our best to avoid traffic jams and long lines at the entrances to the most crowded sights of the city;
to take care of all boring procedures for the paper work for your VISA-FREE disembarkation ;
to book all tickets in advance in order to save your limited, valuable time;
to take immediate care of all your travel needs and wishes as they arise;
to provide 24/7 support for all of our guests.
If we do not keep our promises, you may refuse to pay (we do not require any deposit, you may pay at the end after all your tours).
!!! IMPORTANT:
All of our group and individual guided shore tours of St. Petersburg, Russia are VISA-FREE. In other words you DO NOT NEED TO APPLY FOR A RUSSIAN VISA, because we are officially authorized to provide you VISA-FREE disembarking and tours. In accordance with the legislation of the Russian Federation, foreign tourists travelling on ships may arrive at the port of St. Petersburg without a visa and stay in Russia up to 72 hours, if they have booked a guided shore excursion with a licensed tour operator. Very often cruise lines and their agents warn that you can't disembark in Russia visa-free unless you book one of their ship tours. Please be informed that it's NOT true and that you should not pay any attention to such warnings. This is nothing more than their attempt to sell poorly marketed ship tours that confuse and scare passengers. We will issue and send your Tour Ticket which will be your Customs pass into Russia that will give you 100% identical rights with ship tours customers for disembarking. There are no special gates or lines for private tours customers - you can easily disembark at the time specified in your tour program.
Please feel free to contact us, ask any questions or share any of your travel ideas and wishes. We will be happy to reply by email or to call if you prefer to speak by phone.