The Monument to the Heroic Defenders of Leningrad is one of the most impressive and remarkable memorials in St. Petersburg. It is dedicated to the participation of Russia in the Second World War.
The construction started only in 1974 but the idea to create it was before the war had even ended.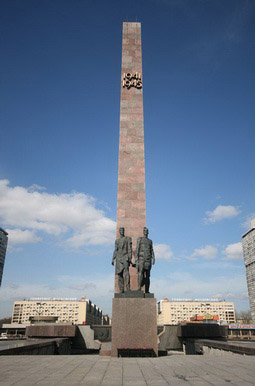 Since the late 1950s a grandiose memorial complex called the Green Ring of Glory, was created. It brought together a range of monuments to military people and citizens. Their heroic effort owes the survival of the city. The Monument to the Heroic Defenders of Leningrad is the central object of the complex. In 1941 this was from where the citizens of Leningrad left for the war. In January 1944 the final offensive of the Leningrad front, which ended with the lifting of the siege, started close by. The memorial also marks the sport where the Soviet soldiers entered the city as they returned from the war.
The underground Memorial hall, housing a documentary and artistic display dedicated to the siege and defense of Leningrad, was opened on 23rd February 1978. The exhibition contains documents and personal belongings of that time. It shows courage and heroism of people who defended Leningrad.
Bronze sculptures representing the Defenders of Leningrad are fixed on granite pylons facing the Pulkovo Heights, where the front line was located. The "Blockade" hall is encircled in the 124-meter broken granite ring. The ring has a laconic inscriptions "900 days" and "900 nights", which reminds how long the siege lasted. Sounds of classical music and the eternal flame create a suitably solemn and somber atmosphere.
Every year the Monument hosts flower-laying ceremonies, where the Residents of Blokaded Leningrad, the Veterans of the Second World War and other citizens of St. Petersburg take part. The ceremonies are held on Victory day (May 9th ), Day of the End of the Siege of Leningrad (January 27th ), Day of the Start of the War (June 22nd) and on Defender of the Fatherland Day (February 23rd).
Open: 11.00a.m. - 6.00p.m.,TU 10.00a.m. - 5.00p.m..Last admission-one hour earlier
Closed: WE