The Marly Palace is the architectural centre of the Western part of the Lower Park. It was designed for Peter the Great and was named after the French kings' residence at Marly-le-Roi near Paris. In front of the main facade of the palace there is a large rectangular pond, which in Peter I's time was full of exotic fish kept for the royal table. The keeper of the pond would ring a bell and the fish would swim to the surface to be fed. For this purpose he received over 200 kilos of rye flour.
On the western side of the chateau there is a semi-circular pond divided into four sections, which meet at a small platform where it is said Catherine II fed her goldfish.
The palace's interior reflects Peter the Great's taste. The palace has 7 rooms on each floor with an identical layout. The corridors of both floors are hung with paintings by 17th and 18th-century Dutch artists. The rooms are full with authentic, typical of the 18th century furniture.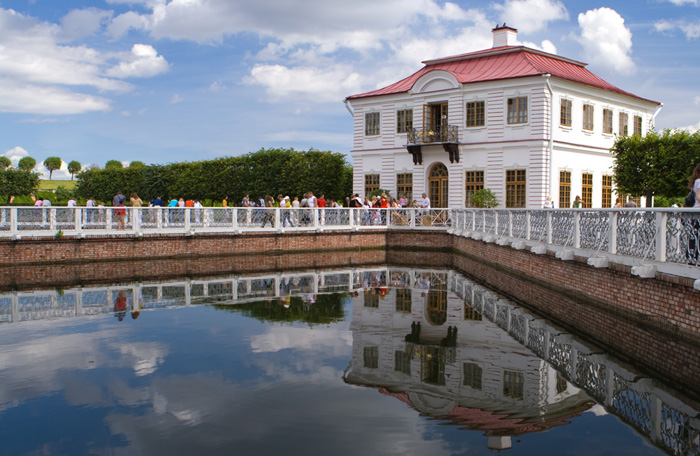 The atmosphere of the palace is the same as it was in Peter the Great's time. The interiors are the best illustration of his life and habits. They are the sitting room, dining room, library, oak study, bedchamber, dressing room, kitchen and other. Peters's Personal belongings make the display more unique.