The State Russian Museum is the largest display of Russian fine art in St Petersburg.
Its original collection was composed of artworks taken from the Hermitage Museum, Alexander Palace, and the Imperial Academy of Arts. After the Russian Revolution of 1917, many private collections were nationalized and sent to the Russian Museum. These included Kazimir Malevich's Black Square. The museum possesses nearly 400000 exhibits. It is the largest in the country collection of Russian art, from ancient icons to the Avant-Garde painting of the XX century.The collection contains works by M. Vrubel, V. Serov, K. Petrov-Vodkin, V. Kandinsky, M. Chagall, K. Malevich, P. Filonov. The other, less renowned painters illustrate the tendencies of the largest artistic unions of the last century.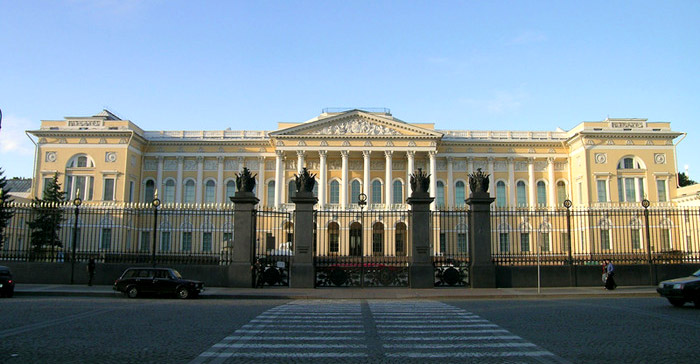 The main building of the museum is the Mikhailovsky Palace, a splendid Neoclassical residence of Grand Duke Michael Pavlovich. It was erected in 1819-25 to a design by Carlo Rossi on Square of Arts in St Petersburg. Some of the halls of the palace retain the Italianate opulent interiors of the former imperial residence.
The other historical buildings assigned to the Russian museum are the Summer Palace of Peter I, the Marble Palace of Count Orlov, St Michael's Castle of Emperor Paul, and the Rastrelliesque Stroganov Palace on the Nevsky Prospekt.
Open: MO 10.00a.m. - 5.00p.m., WE-SU 10.00a.m. - 6.00p.m. Last admission-one hour earlier
Closed: TU