This Moscow-style church of Our Savior on Spilled Blood is one of the city's most beautiful landmarks. It is also variously called the Church on Spilt Blood and the Church of the Resurrection of Christ, its official name. The church of Resurrection on Spilled Blood was built on the spot where Alexander II was fatally wounded by the member of revolutionary organization on the 1st of March 1881. This event gave the name to the church.
The church is only surviving monument in Russia dedicated to Alexander II. According to Alexander III wish the church was not meant for conducting traditional religious services. The western part of the building was to be used as a museum. It represented a memorial area with a canopy over the sport marking the assassination of Alexander II.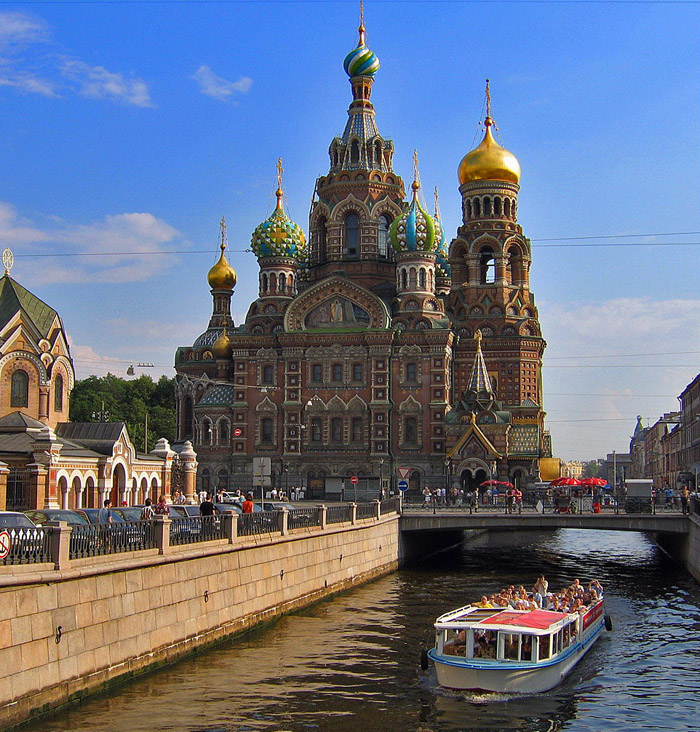 Architecturally, the Cathedral differs from St. Petersburg's other structures. The city's architecture is mostly Baroque and Neoclassical, but the Savior on Blood harks back to medieval Russian architecture. The spirit of romantic nationalism is unusual in St. Petersburg. The Church contains over 7500 square meters of mosaics. The restorers of the Cathedral sure that it is more than any other church in the world has. This record may be surpassed by the Cathedral Basilica of St. Louis, which houses 7700 square meters of mosaics. The interior was designed by some of the most celebrated Russian artists of the day. They were Viktor Vasnetsov, Mikhail Nesterov and Mikhail Vrubel. The walls and ceilings inside the Church are completely covered in intricately detailed mosaics. The main pictures are biblical scenes or figures which have very fine patterned borders setting off each of them.
Open: 11.00a.m. - 6.00p.m.,Last admission-one hour earlier
Closed: WE