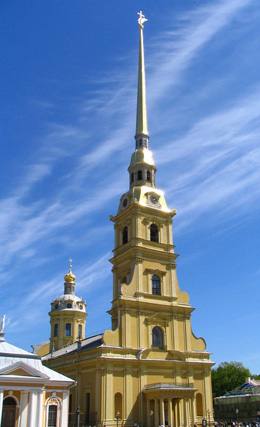 The Fortress is the cradle of the city. It was founded by Peter I in 1703. Except the old fortifications themselves, there are the Sts Peter and Paul Cathedral of the early XVII century, the burial vault of Russian tsars, built at the end of the XIX century, and a museum in the Trubetskoy Bastion prison. The permanent exhibitions give detailed information about the history of city's life. They are "The History of St. Petersburg- Petrograd. 1830-1918", "Three centuries above the city", "Pechatnya (Printing workshop)" and many other.
The Peter and Paul Cathedral is a Russian Orthodox church located inside the Peter and Paul Fortress. It is the first and oldest landmark in St. Petersburg, which dominates the whole ensemble of the fortress and the whole panorama of the Neva River. It was built between 1712 and 1733. The cathedral's bell tower is the world's tallest Orthodox bell tower. The belfry which is not standalone but added to the main building made the cathedral be considered the highest Orthodox Church in the world. Its golden spire reaches a height of 404 feet. The spire is topped by an angel holding a cross. This angel is one of the most important symbols of St. Petersburg.
The cathedral's architecture also features a unique iconostasis. A Latin word Iconostasis means a screen which separates the nave of the church from the sanctuary. In the Eastern Orthodox Church the iconostasis is normally a flat wall or screen with three doors through it. However, the iconostasis of St. Peter and Paul Cathedral rises to form a sort of tower over the sanctuary.
The cathedral houses the remains of almost all the Russian Emperors and Empresses. They are from Peter the Great to Nicholas II and his family who were finally laid to rest in July 1998. Also was Catherine the Great, who was the Empress of Russia for 34 years.
The cathedral was closed in 1919 and turned into a museum in 1924. It is still officially a museum, however, religious services resumed in 2000. The cathedral has a typical Flemish carillon, a gift of the Flemish city of Mechelen, Flanders. Every summer, usually in June carillon festivals are conducted here.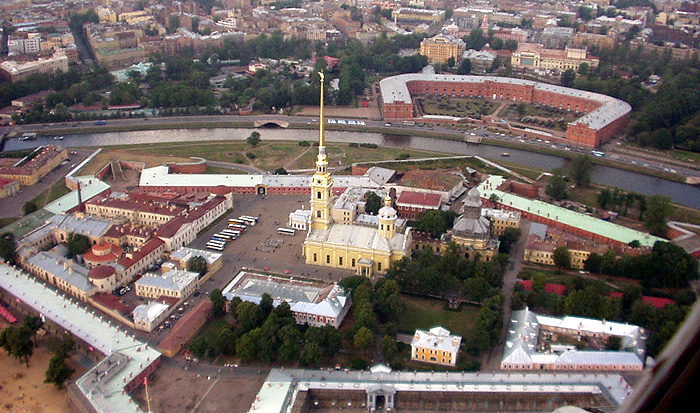 Built as a military fortification, the Peter & Paul Fortress soon lost its original strategic designation, and one of the fortress bastions was converted into a political prison. It was one of the most dismal political prisons of Russia, and contemporaries often referred to it as "the Russian Bastille". All Russian tsars since Peter I used the fortress as a political prison. In the 18-19th centuries, many outstanding people of the country who were fighting for emancipation of serfs and civil rights were incarcerated here. Nowadays the prison in the Trubetskoy Bastion is a museum displaying the former life of the prison. It has 69 cells used for solitary confinement and two punishment cells.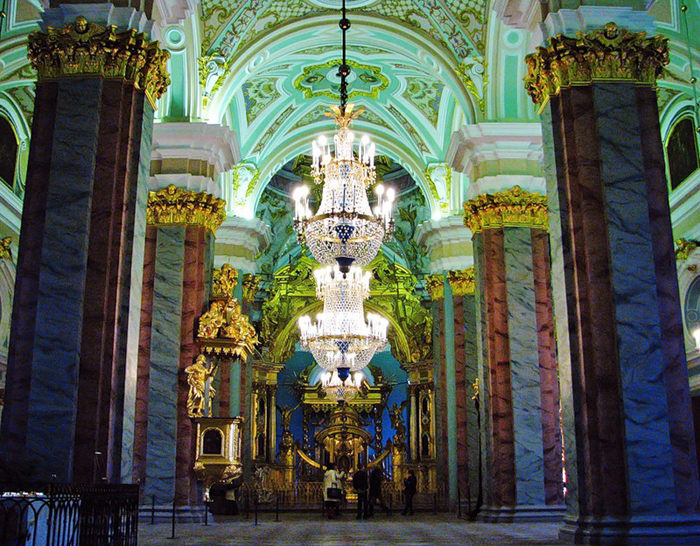 Open: 11.00a.m. - 6.00p.m.,Last admission-one hour earlier
Closed: WE